As a student at Maryland Carey Law, you have access to a variety of resources at both the law school and around campus. We care about your personal health and wellness as much as your academic success and will connect you with the resources you need to support both.
Office of Student Affairs
Maryland Carey Law and the University of Maryland Baltimore offer services to support you throughout your academic career. Below are services that are available, and we encourage you to take advantage of these services. If you have any questions, please don't hesitate to send us an email or stop by the Office of Student Affairs.
osa@law.umaryland.edu
(410) 706-5235
Academic Services
Student Services
UMB Campus Services
Life in Baltimore
Check out our quick primer if you're planning a trip to visit us, see the sights, or picking where to live in the city!
Learn More

Student Organizations

Join Student Organizations, find Student Event Planning and Leadership resources.

Learn More

Health & Wellness

Find exam tips and explore and access UMB resources, such as URecFit and the UMB Wellness Hub.

Learn More

Peer Advisors

Are you interested in taking on a leadership role within the law school? Get involved as a peer advisor!

Learn More
Live in Baltimore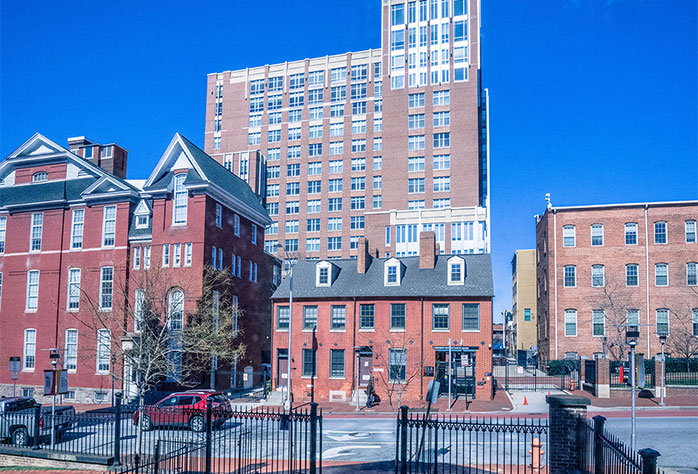 Housing & Transportation
Maryland Carey Law is conveniently located in downtown Baltimore, providing students with access to a variety of housing and transportation options.
Learn More
Scholarly Research
Maryland Carey Law is home to five student-edited scholarly journals which cover a diverse array of content areas. These publications provide invaluable experience in legal writing, editing, and scholarship. Students work with distinguished academic authors from Maryland Carey Law and schools across the country.
Trial & Advocacy Teams
When you're ready to put theory into practice, our competitive teams and clinical experiences provide opportunities for you to apply your skills in both hypothetical and real-world scenarios.
Learn More