About the Center
Our Mission
The Chacón Center for Immigrant Justice at Maryland Carey Law was made possible by a generous donation from the Chacón family in 2020. The center is dedicated to creating a future where all Maryland families and residents are stable and secure regardless of immigration status, race, or economics, and where skin color and place of birth do not limit opportunities to build a good life and participate fully in our communities. Our work focuses on direct representation and impact litigation on issues of asylum and the intersection of criminal and immigration law. We pay special attention to the legally, ethically, and psychologically complex situations that straddle these disciplines.
A key component of our work is training the next generation of immigration lawyers to have the unique skills and understanding of the immigration system to help clients at all levels of the court system. Through our Immigration Clinic and Federal Appellate Clinic, students get hands-on experience working directly with clients to achieve positive outcomes and advocating for law reform and policies that will fundamentally improve the immigration system.
Center Goals
Keep families together
Further racial justice and equality for immigrants
Train new generations of attorneys
Highlights
News
Donate

Help us improve the lives of immigrants in Maryland and beyond.
What We Do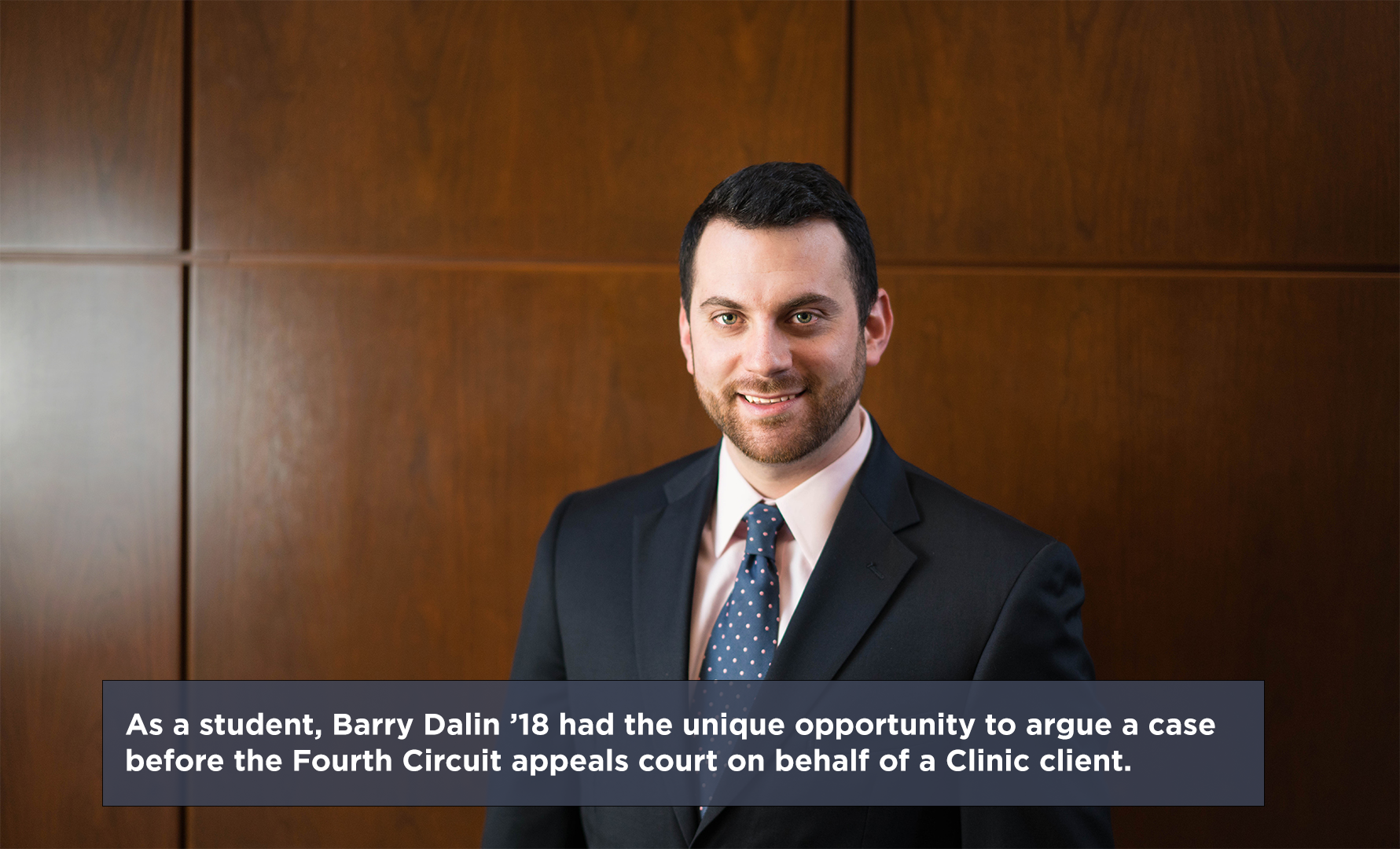 A recent study of the Baltimore Immigration Court showed that people represented by attorneys were four times more likely to win their cases. Many people who are entitled to keep or get immigration status do not have representation and as a result, end up being deported, often to countries where they face violence or permanent separation from their families. The difference between winning and losing a case often depends on whether the person has an attorney who can engage in complex legal analysis to identify merit and prepare a thorough case. Despite the great need, there is a dearth of competent legal immigration counsel at all levels, whether pro-bono or private.
When people lose their cases in immigration court, they can appeal to an agency appeals board, but their first chance for objective review by an independent judge is to file a Petition for Review at the federal court appellate level. Extremely few non-profit agencies provide representation for federal court petitions. This means that many unfair, biased, and even unlawful immigration agency decisions go unchallenged and unreviewed by the federal courts.
We are committed to increasing the availability of high-quality, pro bono representation to people facing deportation at the Baltimore Immigration Court, Board of Immigration Appeals, and federal Fourth Circuit Court of Appeals. Through our rigorous academic curriculum and hands-on Immigration Clinic, we are preparing the next generation of attorneys who can respond to the need for expertise in this area of the law.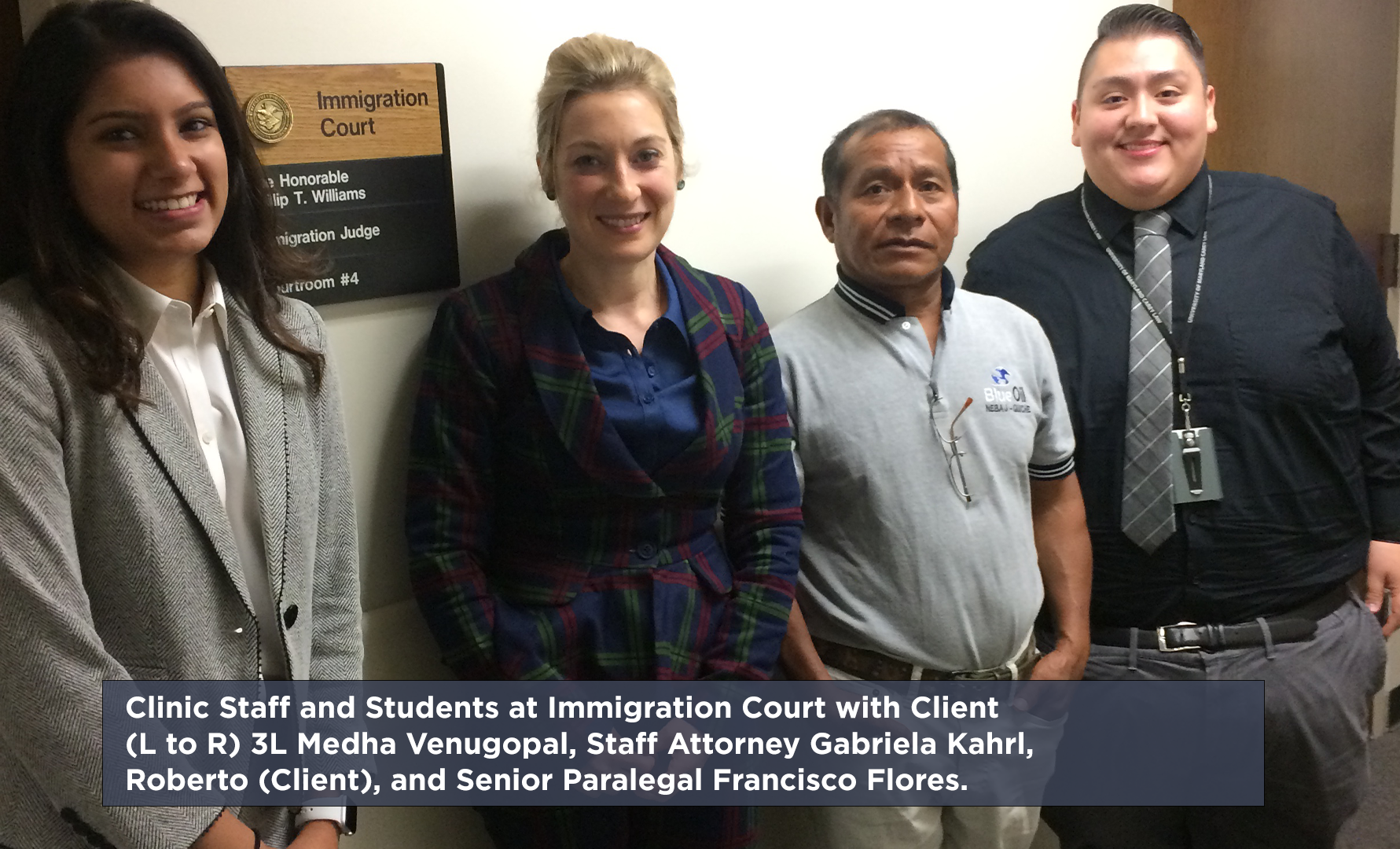 The United States Supreme Court says criminal defense attorneys must provide accurate advice to their clients about whether a criminal conviction or plea deal will trigger immigration consequences like deportation because criminal and immigration law have become increasingly intertwined. However, many criminal defense attorneys do not truly understand the immigration consequences their clients may face as a result of a conviction before a plea bargain or trial.
Currently, the only institutional, reliable source in Maryland for this pre-trial advice is the Maryland Office of the Public Defender (MOPD). But MOPD cannot meet the need of all Maryland immigrants with criminal charges facing deportation, leaving a large, unmet need.
In cases where people are already suffering the effects of a past conviction, there is an even greater need for legal help to alleviate those often-unexpected consequences. Very few lawyers – and even fewer affordable ones – have the expertise to bring a post-conviction petition to challenge the constitutionality of a plea entered without good pre-trial advice.
The Chacón Center will provide a variety of services, including accurate, pre-trial immigration advice concerning the consequences of any potential plea or conviction. By getting accurate, pre-trial advice, immigrants facing criminal prosecution can avoid unknowingly accepting a plea deal that would result in adverse immigration consequences, like deportation. Immigrant defendants can make informed decisions, balance risks, and enter into plea agreements with full knowledge of the consequences for them and their families. We will also provide accurate, post-trial immigration advice for individuals who end up in deportation proceedings because of a conviction and advise on the viability of challenging a conviction through post-conviction or proceedings. Finally, we will provide trainings for practicing attorneys to develop expertise in this area of the law.
With these services, our goal is to help ensure the constitutionality of criminal court proceedings for all Marylanders and prevent deportations through unlawfully obtained convictions, keeping Maryland families together.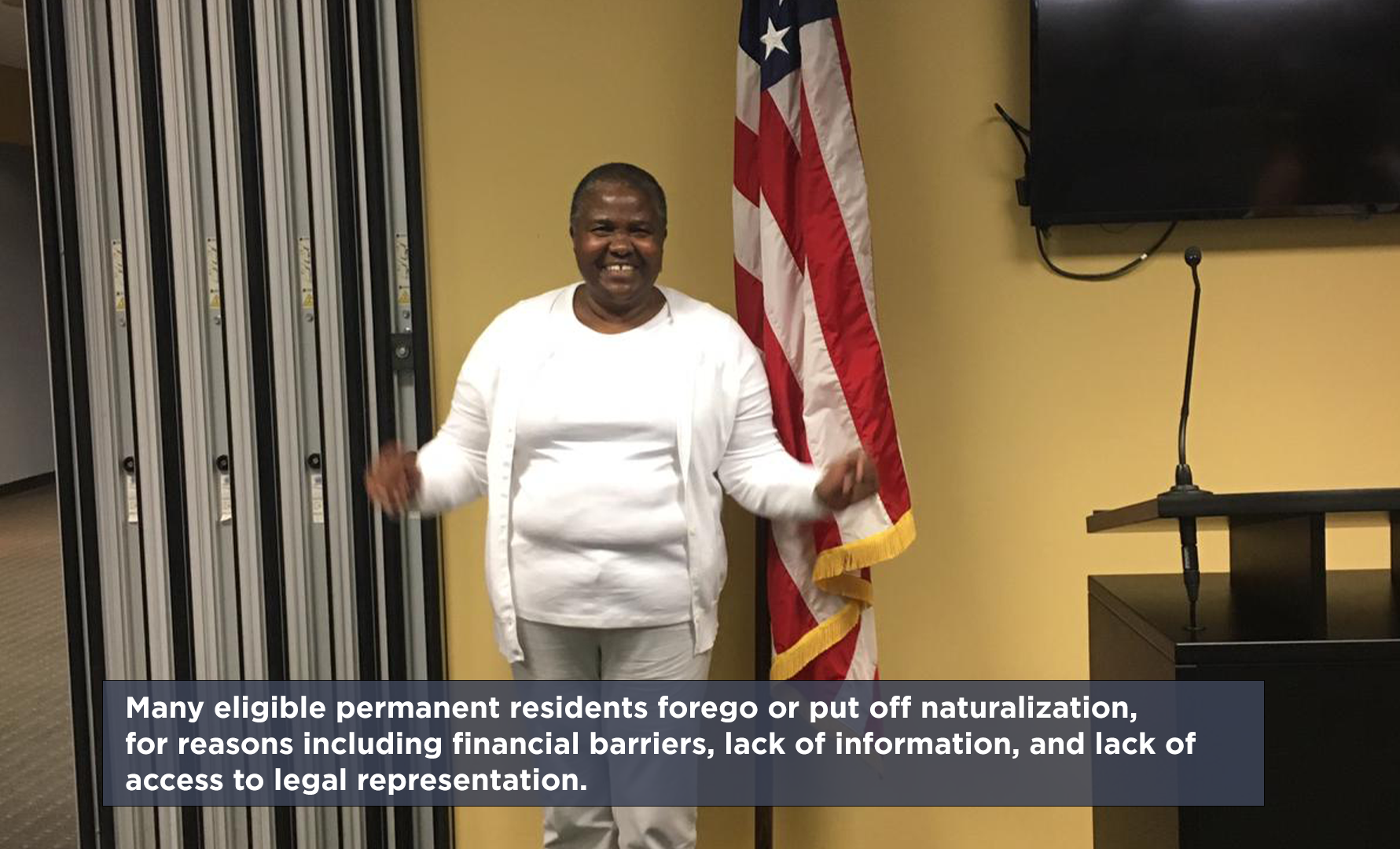 Nationwide, over 9 million permanent residents are eligible to apply for naturalization but have not. As of 2019, Maryland was home to approximately 160,000 permanent residents eligible to become citizens. Many eligible permanent residents forego or put off naturalization, for reasons including financial barriers, lack of information, and lack of access to legal representation.
In a democracy, power comes with the vote, and the vote comes with citizenship. Members of the community who are not U.S. citizens are, by definition, disenfranchised. The only durable protection for the immigrant community is an informed, enfranchised, politically engaged electorate that is motivated to support pro-immigrant policies. Citizenship also enables these valuable members of our community to increase earnings and enjoy family stability, adding to their productivity.
As part of our citizenship efforts, we provide representation to some of Maryland's eligible permanent residents. We prioritize more complicated naturalization cases for low-income applicants who are rebuilding their lives after some contact with the criminal legal system.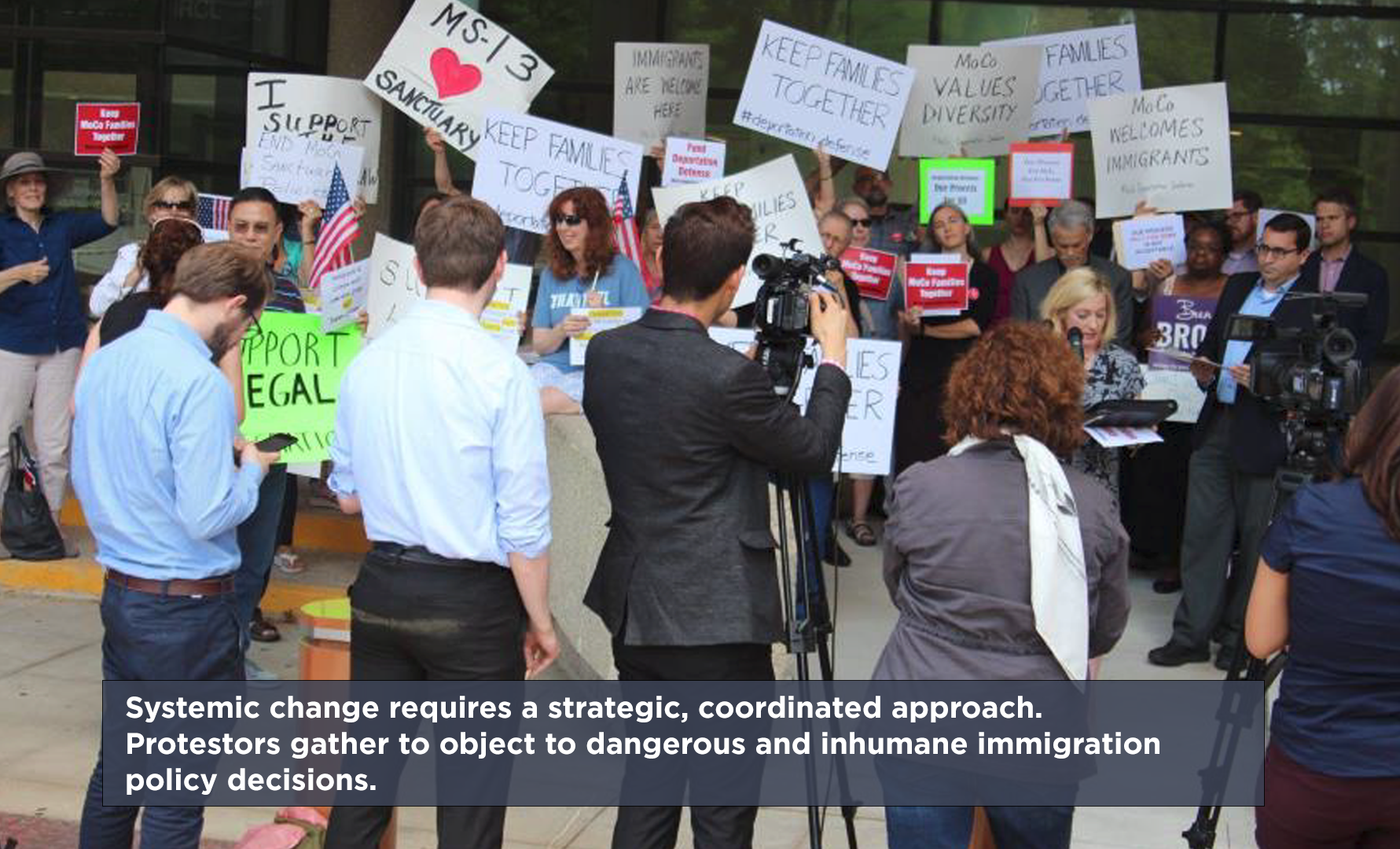 Engaging student attorneys in the work of challenging unjust laws is critical to preparing lawyers who understand that their knowledge and privilege demand more of them than winning individual cases. The best lawyers are stewards of justice who recognize they have the duty and the ability to challenge injustice beyond the courtroom.
With support from the students in our Immigration Clinic, we not only provide direct representation to clients, we also participate in legislative advocacy work. Our goal is to safeguard immigrants' rights in the Maryland General Assembly and in local jurisdictions. We identify issues for advocacy, draft and advocate for bills, provide expert testimony, and build positive, productive relationships with state legislators.